Booking charters in the Caribbean

Booking Charters in the Caribbean
What separates one company from the rest? We all represent the same Caribbean luxury yachts which charter and all yacht brokers provide the same rates! It is the quality of the information that one company provides to enhance the level of your vacation! It is the level of service which one company provides, and others do not! Never before in the history of our industry did owners and captains meet their guests at the airport on arrival. They would all have the client take a cab and work their way to the marina where the yacht is docked. This is not acceptable for our clients.

From our first day in business, we unconditionally insisted to every captain and each owner that if they wished to do business with Barrington-Hall, then all our clients would be met at the airport on arrival. We simply do not wish to do business with owners and captains who side step this issue!
The full moon details are provided to all Barrington-Hall guests, we book those dates well before other parties. You now have the knowledge to fit this into your vacation if you can. We have heard the words, why tell the guests about the full moon, it limits our business calendar? Well it certainly does not limit our quality details we provide our guests.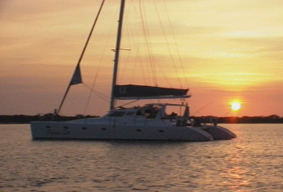 Once quality details are provided you automatically know that your vacation has been raised to a higher standard. Sit back and think, if I remove all these quality details would my vacation be better or worse? Barrington-Hall Corporation entered this market because we knew there was enormous room for improvement and we are having fun providing these extra gorgeous details for our clients.
As one of the top crewed charter brokers in the industry we pride ourselves with associating our company with the best vessels and crews who enjoy this business. Our past guest list will show many recent guests in picture form and what they all have to say about committing to our company. Call us for their telephone numbers to speak to them. Our business is to guide the N.American Vacation public, to wonderful private sailing vacations. We are paid directly by the owner of the yacht you select. All our information provided to you is FREE and it is custom designed to suit you and your party.

You pay us Nothing, we work for you!

We are permitted special wholesale airline rates, for all our guests. Even if you book with another company, it would be a pleasure to provide you with these wholesale airline rates. We enjoy no commission from this! It is a pleasure to assist where possible. Our private luxury chartering (bare-boats, power yachts, and modern catamarans) is a new vacation experience. Cruising the Caribbean and British Virgins, exploring uninhabited islands is what dreams are made of. Think, Pirates, doubloons, treasure, powder white beaches, gin clear water, dolphins, tropical fish, corals, Caribbean Islands, boating, water, sun, scuba diving, palm trees, steel band music, sailing and many happy hours on your own private yacht just with your family and/or friends.
DISCOVER NATURE NATURALLY NAKED FOR THE FIRST TIME!
If you can dream it? We can make it come true!