Caribbean Dolphins

The British Virgin Islands has the most friendly Dolphins, so during your sail keep a watchful eye open for this gorgeous creature. Expect to enjoy a unique opportunity to swim and play with a wild, and friendly, dolphin.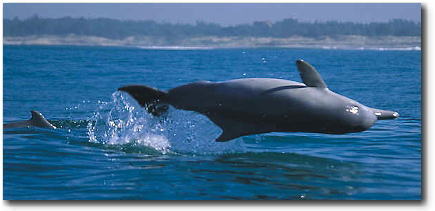 Captain Jack of Dream walker.
I first met Lucy on April 20, 1998. 1 was between charters and had taken advantage of the dry sunny weather to add a few coats of varnish to the Dreamwalker's extensive exterior teak. Shortly after beginning work at 06:00, I noticed a dolphin swimming around Dreamwalker and a couple of unoccupied yachts moored nearby in Elephant Bay. Because dolphins are not an uncommon sight in the Virgin Islands and because the correct application of varnish does not tolerate interruptions, I continued my varnishing while the dolphin continued to make her rounds.
By 10:00 my varnishing was done and my curiosity peaked:
Throughout the morning the dolphin--which I later named 'Lucy--had continued circling the three vessels as if she were looking for something or someone with which to play. I changed into my snorkeling gear, and when she again approached Dreamwalker, I dove in and swam to where she had last surfaced. Once there I lay motionless in the Water.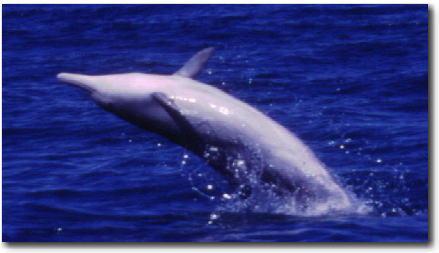 Not five seconds later Lucy was staring, thorough my swim mask, into my eyes; her bottle nose not 12" away! Tentatively, I slowly reached out and touched and then stroked her back.

In response she turned over and let me scratch her stomach. For about ten minutes we swam and touched and dove together. When she disappeared, I returned to the Dreamwalker and my chores, keeping an eye out for Lucy the friendly dolphin. An hour later she returned, and again we swam and touched and dove together, I returned to the Dreamwalker filled with joy and awe for the lovely creature that had allowed me, for a little while, to become her friend.

Over the next week and a half Lucy swam with a number of my sailing friends during her tour of Elephant Bay. One day I watched her lead six or seven snorkelers on a merry chase before she stopped and let them pet and hug her. Then she simply disappeared. About two weeks before I first met Lucy, an English sailor cruised into Long Bay and docked for a couple of days at Safe (Yacht) Haven, At the time I was also at dock, preparing for a charter. As sailors in new port often do, he stopped by Dreamwalker to ask about provisioning, parts stores and the like.
During the course of our conversation he mentioned that he had the most exhilarating experience at Cane Garden Bay In Tortola, He had actually swam with and petted a dolphin! He asked if that was a common experience in the Virgin Islands. I replied that I had never heard of anyone else having such an opportunity, and affirmed that he should take such an experience as a very good omen.
Although I continued looking for Lucy and listening for stories about her after our April 20 meeting, I saw and heard nothing until May 22 of this year. Just after sailing off mooring on a Bareboat Certification Charter, I noticed two dolphins swimming toward Dreamwalker. As we sailed by one of the dolphins she did a sideways swimming, tail stand; her head cocked as if she wanted to make eye contact with those of us on board. I was delighted, but puzzled, by this show: I had previously seen such tail stands exhibited only by trained dolphins and in movies. While I cannot say for certain that the tail standing dolphin was Lucy, I can tell you that It had Lucy's unusually light face.
The following week's charter guests chose to spend an afternoon ashore at Cane Garden Bay. So on June 3 we arrived in harbor relatively early. Just after securing my ground tackle, I looked up in wonder to see a 40' Beneteau Bareboat entering harbor at six knots or more. My wonder soon turned to amazement when the Beneteau circled through the anchorage, never slowing down! The third time they flew by I asked if they had a problem. They pointed to their wake and yelled, "We have a dolphin following us!" When the skipper finally brought the vessel to ldle. His five passengers jumped in the water to "play" with the dolphin.
By this time, having seen her white face, I knew it was Lucy. She too wanted to play. But rather than letting the snorkelers hug and scratch her, she led them on a game of hide and seek. She would swim slowly away while they frantically followed, then - just when they were about to catch her - she would dive and come up behind or between them. She would then continue the game by swimming slowly away with her frenzied fans following her. After fifteen minutes she tired of the game & finally swam away. Around 16:00 my guest and I set sail for Jost Van Dyke. A quarter-mile out of Cane Garden Bay, "Lucy" appeared beside Dreamwalker.
She swam with us for the rest of the trip, departing only when we entered Great Harbor. In attempting to research Lucy's background, I happened to cross wakes with Jim Spence, a former Bareboat Certification Student of mine. Jim claims that he met Lucy last year when he and his lady, Ellen, rented a bareboat from Sun Yacht Charters. Arriving in Fat Hog Bay, Jim was a bit apprehensive about the charter because Ellen suffered from chronic middle ear problems. Shortly after boarding the rented vessel, a dolphin swam up to the transom and Ellen spent almost an hour petting and playing with it. The experience instilled in her a love of the Caribbean and they had a delightful week sailing together.
When Jim asked others about the friendly dolphin, he was told that a number of trained dolphin were brought to the islands for a movie, and that one of them simply decided to stay rather than return to its trainer. I can vouch for Jim's veracity, but not for those who told him the story. Is Lucy a trained dolphin who chose freedom rather than security when given the opportunity? Or is she a wild dolphin who particularly likes human contact?
I cannot say. But I can tell you that those of us who have been fortunate enough to sail with her, to swim with her, and to touch her have ourselves been touched by incredible joy, incredible happiness and incredible love. Dreamwalker is a Barrington-Hall preferred yacht. Magnificent well appointed sailboat. Superb captain and personal chef. And Lucy? Priced right, we have recommended raising their rates.