Caribbean Yacht Charters

Sailing in the Caribbean is synonymous with the Virgin Islands. These include the British and United States Virgin Islands. Almost 70-80 percent of all Caribbean charters will go through one of these locations.

The Virgin Islands are a magical Caribbean archipelago of more than forty islands and cays. They seem to have been created expressly for the pleasures of yachting and water sports. Located about 60 miles east of Puerto Rico and volcanic in origin, the British Virgin Islands feature rugged mountain peaks rising from the blue Caribbean Sea with unusual names such as Great Dog, Fallen Jerusalem, Prickly Pear and Pelican Island. The islands, many of them uninhabited and attainable only by yacht, offer solitude and a simplicity of living unknown to most people.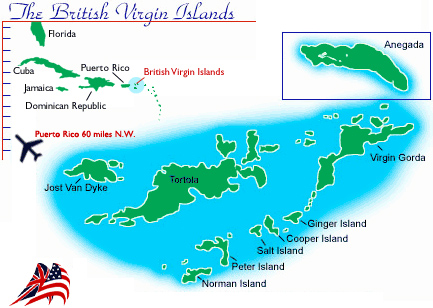 Anegada | Cooper Island | Jost Van Dyke,Sandy Cay,Sandy Spit | 
Norman Island |  Peter Island | Salt Island | Tortola | Virgin Gorda
The Caribbean islands' peculiar names were first given by Columbus in 1493. He named the scattered islands as a group in honor of St. Ursula and her 11,000 virgins who, according to history were murdered by the pagan Huns in the 13th century.
Details provided by Charter Yacht Wanderlust 
and Caribbean Charters Captain Dick Nichol
Fallen Jerusalem
A day stop for virgin island crewed charter yacht vacations
There is nothing much to see on land here; the name fallen Jerusalem says it all; it is a pile of organized rubble with soft bush between each boulder, but there is a small afternoon or lunchtime anchorage here, for sailing vacations and yacht charters to take place, which is way off the beaten track.
Our charter guests had decided to fish for lunch after we all enjoyed an hour of snorkeling, well they caught a pan-sized yellow tail snapper and pulled it on board. The fish kept flapping until the hook fell out of it's mouth, then proceeded to flap it's way down a hatch on deck, this hatch was directly above the toilet, so our pan sized yellow tail fell into the toilet bowl which was also salt water. This fish flapped so hard that almost all the water in the bowl was on the floor. Tears of laughter filled the air from everyone, with sore tummies from laughing the fish had earned it's way back into the clean Caribbean Virgin Island charter water. A statement I make is, do not expect this in the Mediterranean yacht charter experience, there are few fish in the Mediterranean.
Jost van Dyke.
Power yacht charter capital of the world
White Bay here is a gorgeous white bay aptly named for the white sand on the Virgin Island beach, there is a small dead coral reef which gives reasonable protection for the evenings, the depth within the bay is 7-10 feet with no piers to get ashore. White Bay Sandcastle is a small beautiful resort serving breakfast, lunch and 3 or 4 course dinners at night. The Soggy Dollar Bar is world renowned in the sailing vacation fraternity for inventing or mixing the popular pain killer. This tropical drink is superbly tasteful, but it packs a kick as strong as a donkey, when on a Caribbean sailing vacation?. The name Soggy Dollar Bar was derived from cruise ship folk coming ashore and having to wade ashore just like today 25 years later, all have soggy dollars.
FOXY'S luxury yacht charter destinations.
One of the world's 4th most requested New Year venues, these can be wild parties with far too many Bahamas power yachts, sailing yachts, catamarans packing into Great Harbor around the bend from White Bay. This is the only yacht charter within these top 4 new year destinations.
Sandy Cay and Green Cay
Caribbean Catamaran yacht charter must do uninhabited islands in the sun.
There is a wonderful 20 minute walk for everyone to do on the uninhabited island of Sandy Cay, take flip flops, camera, and bug spray. This walk starts on the white beach sand where you head into the palm tree encrusted undergrowth, follow a wide well used path and meander up to the top of a small rocky cliff 50 feet above the warm Caribbean sailing grounds. At the top of this out cropping you can see your luxury power yacht anchored just above the tops of the palm fronds, you are looking down over the palm trees. Take pictures of your yacht and pictures of the clear shallow water around this small island in the sun, then meander back through the undergrowth, palm tress back to the white beach and snorkel back to your power boat or whatever catamaran or sailing yacht you selected for your private charter yacht vacation, let the crew take your personal items and cameras back to your charter yacht.
Cane Garden Bay
The sail boat party stop of charter vacationers.
Regarded by many sailing vacation Charter folk as the most beautiful anchorage. This is a picture postcard (Caribbean Cruise) white sand coconut lined bay with dancing in the evenings at 3 different spots most nights. Quito's club has live music almost every night for happy sailing yacht sailors, Quito and his band "the edge" do all the hard word for revelers.
Just west of Quito's on the beach is AL Henly's "Big Banana Paradise Club" also ready to swing the night away, this is where Caribbean sail boat charter folk go to boogie.
Sopers Hole
Motor yacht charters, perfect for power boats to stock up with provisions and fuel for their motor yachts.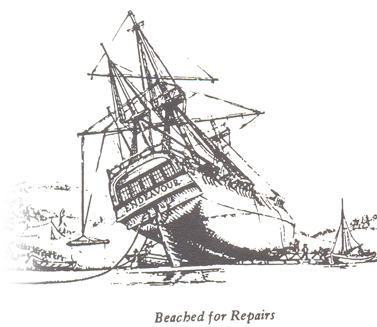 The real pirates favorite hideaway anchorage. In the 1600's the only way to clean the bottom of your hugged sailing yacht was to take her ashore sideways then beach the vessel on one side (roll-on-to-one side), now the crew can clean the bottom of their yacht. Once that was done they turn the huge vessel around and do the other side. Pirates yachts had to be faster than all other sailing yachts of the day or they would have a problem. Sopers Hole (west-end Tortola) was a perfect Sailing hideaway, because the anchorage is protected by 3 high sides with a great island across her entrance, which meant passing vessels could not see into this ideal spot. A look-out was posted on the highest hill to view the outside world. Today all the sentry would see would be sailing vacations being enjoyed by power boat chartering, catamarans cruising and sailing yachts all having fun in the Caribbean sun. There is another yacht charter anchorage named "The Bight" on Norman island with much the same protection as west end so these two anchorages were the 2 most preferred spots for pirates to be close to Charlotte Amalie where they could enjoy wine woman and song.
Today Sopers Hole consists of pastel colored shops dotted between coconut palms, A Pusser's Rum bar, and Marinas run by Voyage catamaran sailing charters. Today Catamaran sailing vacations is by far the most requested form of a sailing vacation.
Norman Island
Pirates protected paradise, your magnificent sailing vacation - Caribbean yacht charters
The famous Bight and her 3 famous pirate caves, designed for yacht charters. This is the other most used pirate anchorage in the Caribbean, it has the same 300 degree protection, with a perfect lookout point and a soft beach to clean the bottom of their famous classic sailing yachts of the day. I have read 2 different renditions of a tale about a fisherman who sought refuge in one of the caves during a thunder storm, he found wrapped in a small leather pouch many doubloons were inside. Is this true, I have no idea, I like to believe it is true? To the sailboat rental folk, it does seem more real than fiction.
The 3 caves today are a "must see" for visiting Virgin Island Sailing yacht charter folk, where guests swim into and out of each cave. This sounds tough but because the water is so crystal clear swimming into and out of the caves provides no boogiemen or sea serpents, you can see everything going in and wonderful experience on the way out. Remember the way out will be unique for you, you are in the dark (not too dark) going back into the light, see pictures, charter guests love this.
Most unusual is when snorkeling around the point of the caves we came a cross a small shoal of red sea horses, yep keep those peepers open small squid, sea horses, and a young Sun Fish are all unusual things seen in the Virgin Islands. The anchorage where the most turtles were seen on top of the water at onetime is Beneurs Bay where my wife and I saw 7 breathing on top of the water at the same time.
The only bay in the Virgin Islands where we could find pygmy conch is also Beneurs Bay.
Of all the Bahamas yacht charter, Mediterranean yacht charters, Greece yacht charters, the Virgin Islands sailing provides everything for expected guests. The water is almost the same temperature as your body so many hours of snorkeling are done each day, exploring uninhabited island, shopping at pastel colored shops between coconut palms and shelling are all part of a days adventure. It is vital for guests to select the right broker to work with when selecting their private yacht charter vacation, because it is us who know each crew member personally, we know each yacht personally, yachts and crew are not all the same, this is a crewed charter vacation where the cheap yacht can spoil your expensive vacation so be prepared to pay the right price to make sure your adventure in mother natures paradise
Deep Bay Virgin Gorda

, go back in time 500 years on your charter boat!

Your perfect Caribbean Cruise anchorage.
Only catamarans can get into and out of Deep Bay Virgin Gorda. I have seen one power boat there and one yacht over a period of 5 years, so expect to be all by yourself in this gorgeous anchorage.
There is a white beach with palm trees and a thatch cabana, this thatch cabana is an "HONOR BAR", it looks unmanned which it is but look in the deep freeze and the ice chest you will find every drink you can imagine, help yourself relax on the recliners on the beach sun tan and just enjoy the noonday sun. Once you have completed drinking from this unmanned bar give the right amount to one of you crew and have him or her take the money to Biras Creek office which in itself is a great walk to enjoy. At night there are no lights to be seen anywhere, no buildings, just sparse bush and exceptionally bright stars, now you know what it feels to be 500 years back in time..This sailing cruise did it all.
A perfect snorkel spot for the next day is the 4 sixteenth century cannons in 10 feet of water, these are marked by a buoy on the Coulequan Barrier reef. Snorkeling on the outside of this barrier reef will possibly the best snorkel time you have ever done in your life, there are no undertows, no currents, so have your sail boat charter Captain take you snorkeling on the outside of this barrier reef.
Not suggested if you are on board a sail boat, or luxury motor yacht charter, just perfect for the modern luxury catamaran sail boat.
You can do all these islands in one week making this the perfect yacht charter