Caribbean Cocktails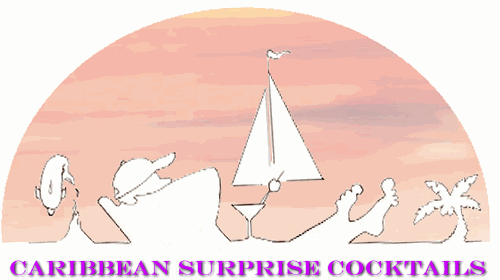 2000 Copyright Barrington-Hall Corp©


NAUGHTY NYMPH COCKTAILS

Courtesy Captain David and Stella Beavis.
Charter Catamaran "Genesis 50ft."

6 oz gold tequila
6oz gold margarita
3 oz grand Mariner
10 0z minute-made lime concentrate

Salt rim of glass garnish with cherry and
orange slice serves 4-6 guests

These illustrations are a tribute to natures tropical secrets. These exotic flavors of nature are put together as if my wife were a gorgeous humming bird and it was her I wished to attract. Enjoy these carefully selected Caribbean favorites, they are dedicated to the art of service and a lot of fun. I believe that natures handyman would be proud of them, dry or sweet. Thank you for your selection, enjoy your party no matter how big or small.

We are honored to present these to you for the first time and delighted you are about to test these extremely special tropical mixtures. As of today there is not one charter company in the world who have provided this type of service for their guests.

PINK PELICAN

Captain Jack & Rona
Charter Yacht "Dreamwalker 58'ft."

2 oz Malibu rum
1 teaspoon honey
3 oz lemonade to taste
1.5 oz Grenadine then stir.


2000 Copyright Barrington-Hall Corp©

2000 Copyright Barrington-Hall Corp©

NECTAR

Captain Will and Kim Kaye
Catamaran "Infinite Zest 50 ft."

1 oz Marula Juice
1 oz Peach schnapps
4 oz Spumante sweet champagne
2 oz Fruit punch
2 oz Pineapple juice

Pour into 2 cold champagne tulip glasses
no ice. Ladies favorite

RASTA-MAAN

Captain Peter & Fiona Wehrley
Charter Catamaran "Swish 47 'ft"

1 part dark Pussers rum
3 parts mango syrup
1 part margarita mix

Blend with ice and garnish with flower


2000 Copyright Barrington-Hall Corp©

2000 Copyright Barrington-Hall Corp©

TEQUILA

Captain Russel and Evelyn Rogers
Charter Catamaran "Anne Marie 3"

2 oz prime tequila
1 oz triple sec.
3 oz lime consentrate-minute-maid

Salt rim of glass pour over ice.

Body shot: Lady in hammock, fill belly button
with tequila, Place salt in breast cleavage,
lime slice in mouth, now husband may enjoy body shot.

ALIGATOR G & T

Captain John and Anita Straub
Luxury Catamaran "Reaction 55ft."

1 oz Gordons gin
3 oz dry vermouth.

Pour over ice to fill goblet.
Garnish with half slice of ocre.
This needs to be sliced from end to
end and placed into goblet.


2000 Copyright Barrington-Hall Corp©

2000 Copyright Barrington-Hall Corp©

JUNGLE JUICE

Captain Greg and Heidi Snead
Charter Power Yacht "Cawi 164 'ft"

1 oz light rum
0.5 oz minute-maide lime juice
0.5 oz Ameretto
2 oz Mango syrup Blend with ice.

Enjoy the Caribbean.

GOLDEN OLDE

Captain Norman Welthagen and Rose
Charter catamaran "Free Ingwe 45ft."

1 oz dark pusser rum
0.5 oz lime
2 spoons honey

Dash bitter- top-up with soda water, tint ice pink
with Angostura bitters before freezing,
Garnish with cherry in tulip glass.


2000 Copyright Barrington-Hall Corp©

2000 Copyright Barrington-Hall Corp©

BANANA DAIQUIRI

Captain Michael and Sandy Hallett.
Charter power yacht "La Buscadora 81ft"

2 ripe bananas.
½ pint of milk (cream)
1 table spoon honey.
2 oz Banana liquire.
1 oz vodka.

Blend, pour onto glass with ice

TROPICAL PUNCH

Captain Ralph and Debbie Harris
Charter Catamaran "Catalyst 44 ft"

Our tropical rum punch serves 4-6

3/4 fill pitcher with ginger beer sweet soda
10 oz minutemaid lime concentrate.
6 oz tequila,
3 oz triple sec.
10 oz dark rum blend with ice.

Salt rim of Tall Collins glass garnish with pineapple slice.


2000 Copyright Barrington-Hall Corp©

5 Years working as a charter yacht captain, in the Caribbean and mainly based in the Virgin islands allowed me to get to know all the yacht charter captains. "What is your favorite drink you served to your guests?" was often the topic of conversation. Here are the recipes gathered from those special evenings.