Sailing Yacht Endless Summer II Sample Menu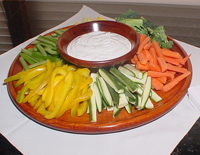 Our chef will amaze you with an array of dazzling delights during your cruise. We can honestly say everyone raves about our food and its presentation. It's like having a very special dinner party at home every night of the week!

We normally serve breakfast and lunch in the cockpit and dinner in the main salon. Drawing from many years of experience, we have developed a ship's bar of locally available spirits, beers, sodas and wines. We serve vintage wines at dinner and our house wine is offered at other times. This very comprehensive selection is included in your charter fee. If you would like us to purchase other brand names or items at your expense, we can apply the charges to your credit card. These items remain your property and you are encouraged to take them with you at the end of the cruise.



We offer a varied selection of great wines from countries around the World. These include France, Chile, South Africa, Australia, New Zealand, Italy and of course California in the USA. All are selected to complement the menu of the day.
* Sauvignon Blanc from Simi.
* Brouilly and Pouilly Fuisse from DuBoeuf.
* Chardonnay from Meridian
* Pinot Grigio from S. Margherita.
* Cote du Rhone from Vieille Ferme.
* Cabernet Sauvignon from Carmenet
* Merlot from Fetzer.

Our house wines are Lindemans Bin 65 Chardonnay from Australia and KWV Pinotage/Shiraz from South Africa.

Since we buy single bottles of wine at wholesale case prices, they represent excellent value for the money. If you wish to upgrade our wine selection, please let us know at least 2 weeks before the cruise and we will arrange for your selection to be charged to your credit card and delivered directly to the yacht.